Mackey named assistant men's basketball coach
---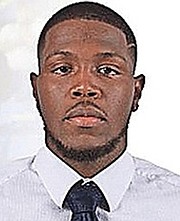 By RENALDO DORSETT
Tribune sports journalist
rdorse[email protected]
NASHAD Mackey continues to progress through the coaching ranks and has been appointed to a new position in his alma mater.
The former national team player has been named assistant men's basketball coach for the Daytona State Falcons.
He joins the staff of head coach Joey Cantens who led the Falcons to a 13-19 record last season in NJCAA Division I – Region Eight.
Mackey spent the last two years as a graduate assistant for the Embry Riddle Aeronautical University Eagles under head coach Steve Ridder.
His staff led the Eagles to a 24-10 record last season and culminated in a berth in the NCAA Division II Sweet Sixteen.
He graduated from Daytona State in 2017 after a stellar academic and playing career for the Falcons.
On the court, he was named JuCo All-American, Mid-Florida Conference Player of the Year, First-Team All-State, and DSC Basketball Student Athlete of the Year. He was also named a Mid-Florida Conference Scholar Athlete, DSC Dean's List Winner, and DSC President's List Award Winner.
In his first season with the Falcons, he averaged 9.8 points and 10.1 rebounds per game while shooting 47% from the field and 26% from three-pointers.
As a sophomore, he improved his numbers across the board to average 15.3 points and 12.3 rebounds per game on 52% shooting from the field and 80% from the free throw line.
Mackey received his Associate of Arts degree with honors from Daytona State College in 2017.
He signed up for the Eagles as a player where he concluded his college basketball playing career as one of the program's all-time leaders.
During his two-year run with the Eagles, he was a two-time Sunshine State All-Conference interpreter.
He recorded 39 double-doubles in 50 career games in an Eagle uniform, averaging 17.2 points, 12.2 rebounds, 2.0 assists and 1.1 blocks per game. The only Eagle to average a double-double for his Embry-Riddle career.
Mackey's scoring average ranks fourth all-time in Eagle history, while his 12.2 boards per outing is easily the best in 31 ERAU basketball seasons.
His career totals also include second all-time in free throw percentage (.870) and eighth in blocked shots average (1.1).
His name appears six times in the single-season record books, including first place in rebounds (350 in 2017-18) and rebounding average (12.5 rpg in 2017-18) and second on the all-time free throw percentage (.870).
At ERAU, he obtained his Bachelor of Science in Human Factors Psychology in 2019 and a Master of Science in Leadership in 2022.
At the senior men's national team level, Mackey was a member of Team Bahamas at the 2018 Central American and Caribbean Games and the 2020 and 2022 FIBA ​​Americas Qualifiers.
He and his wife Simone have two children, Noah and Malayah.