Iowa dog breeder's 'shocking cruelty' leads to license ban
---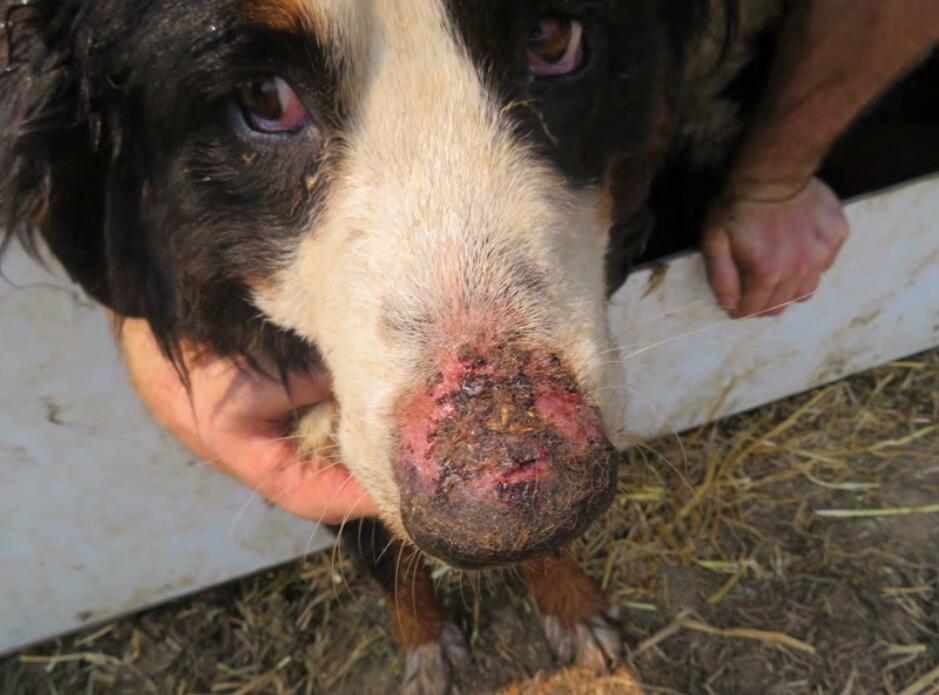 During a July 28 visit to a dog breeding facility operated by Daniel Gingerich of Seymour, a federal official observed this unidentified female Bernese Mountain dog who had an abnormal condition on her nose. The dog was not in the care of a veterinarian. (Photo from U.S. District Court records)
Puppies from a dog farm operated by Daniel Gingerich, of Seymour, go without water during an inspection this year by a federal animal welfare official. (Photo from U.S. District Court records)
A federal inspector discovered that the dog's nails had been allowed to grow excessively for a long time at a facility operated by dog ​​breeder Daniel Gingerich of Seymour. (Photo from U.S. District Court records)
A photo taken this year by a federal animal welfare inspector shows a puppy snooping in a bed of moldy straw at a facility operated by dog ​​breeder Daniel Gingerich of Seymour. (Photo from U.S. District Court records)
Dogs are deprived of water at a facility operated by dog ​​breeder Daniel Gingerich of Seymour, according to a report and photos documenting a federal inspection earlier this year. (Photo from U.S. District Court records)
Iowa dog breeder amassed 500 sick and malnourished dogs in unsanitary conditions, says federal government: "Shocking community"
The poodle gasped and moaned as the scorching sun hit the southern Iowa alley last summer. The heat index reached 119 degrees and the dog was caged in a transport crate for what could have been hours, investigators said.
It was even hotter inside, where the puppies were barking – their heartbeats high and frantic. The water bowls contained a brown liquid; flies surrounded the moldy food; straw beds infested with midges and other bugs; and water spilled from the ceiling onto the gaping parquet floor, soaking up stray wood chips, according to a federal indictment.
Daniel Gingerich has racked up more than 500 dogs at his multiple properties in Seymour, southern Iowa, west of Centerville, all of which were in poor condition, the American Society for the Prevention of Prevention said last week. animal cruelty.
In a federal indictment filed in late September accusing Gingerich of violating animal welfare law, prosecutors detailed the dead, malnourished and injured dogs found on his property.
The operator of the puppy mill agreed last Tuesday to hand over all of his animals. Breeding and selling dogs is now permanently banned, according to court documents. It is not known if or when he should return to court.
Gingerich, whose lawyer did not respond to a request for comment, received a breeding license in October 2019 from the United States Department of Agriculture, which is responsible for monitoring and inspecting the facilities of ranchers and farmers. brokers. According to the ASPCA, Gingerich's indictment is the latest example of the USDA's failed breeder oversight. The nonprofit sued the department in June for failing to enforce the Animal Welfare Act, a 1966 federal law designed to keep animals safe.
ASPCA executives allege USDA has allowed ranchers' violations to go unreported and go unpunished. The nonprofit says unfit dog dealers have not been penalized since 2017, despite evidence of abuse.
"Gingerich's shocking cruelty is a predictable USDA outcome … allowing the very animals they have a legal and moral obligation to protect to endure prolonged and extreme suffering," said Robert Hensley, senior legal counsel for the 'ASPCA, in a statement.
The USDA did not respond to a request for comment.
In the two years since Gingerich got his license, he was slapped with at least 100 citations for non-compliance with federal law. The majority of the accounts were released after March, according to the indictment. The USDA then suspended its license for 21 days in September. That same month, the ministry decided to permanently revoke Gingerich's license.
Federal prosecutors have said that USDA Animal and Plant Health Inspection inspectors were repeatedly denied access to the Gingerich facility between winter and spring of 2020. This is not that last March that they had access to it, according to the indictment. They returned in April, May, July and September.
But Gingerich, investigators said, was repeatedly non-compliant when inspectors requested information on where the dogs were being held and access to facilities to confirm their welfare. He also failed to "provide veterinary care, nutrition and a safe environment for these dogs," according to court documents.
Gingerich hid sick dogs in a horse stall contaminated with dirt, horse manure and dog feces, federal investigators said. But inspectors noticed that a golden retriever in the stable was the one they had previously asked Gingerich to take to a vet. Upon their return, the dog was in an "emaciated state", according to the indictment. Inspectors also found dead dogs on the property near the stables that once hid them.
"Gingerich's indifference to the welfare of dogs is evident in his inability to remove even dead dogs from his establishment," prosecutors said.
Several dogs were suffering from treatable and preventable illnesses, according to court documents. USDA employees saw dogs with matted hair that came off in patches or with skin covered with lesions. They also saw puppies that were breathless. During a visit in August, inspectors witnessed the death of a poodle puppy.
They inspected a dog with teeth covered in dark brown tartar, another with sunken muscles, and two with overgrown fingernails, which caused them pain. There was also a "lethargic and depressed golden retriever … whose extremities, including his ears, were cold to the touch, although his body was warm," according to the indictment.
Gingerich broke protocol by not recording multiple sales of dogs, according to court documents, and did not keep medical records that breeders are required to keep for at least a year after vet appointments.
Many dogs were reportedly covered with fleas and insects. They ate moldy food from unsanitary bowls, drank dirty water and lived on floors covered with dog droppings and saturated with urine, investigators reported. Their bedding was "dark, damp, dirty and moldy," according to court documents.
"There are spaces between the planks of the floors wide enough for the paws of puppies and adult dogs to fall easily and thus create the potential to cause serious injury to the animals," the indictment says.
In September, a rescue organization bought 10 puppies and three adult dogs from Gingerich. They found that they were in "poor condition", some requiring emergency treatment.
"A puppy died from parvovirus, a highly contagious disease easily preventable with an appropriate vaccination regimen, as required by the AWA," according to the indictment.
The Animal Rescue League of Iowa and the ASPCA are working to abduct, transport and house the more than 500 puppies and adult dogs rendered by Gingerich. The organizations began the rescue process on Oct. 14, according to the ASPCA, and have transported around 30 animals in medical distress. More than 200 people were rescued over several days.
"Our hearts broke when we learned of the plight so many dogs are going through," Geoff Hall, president of Wayside Waifs, a nonprofit that helps rescue, said in a statement. "… We are extremely grateful for the opportunity to help our animal welfare colleagues save the lives of these dogs."